Vibe: Year-old White Pit Bull Looking for Loving, Mature Home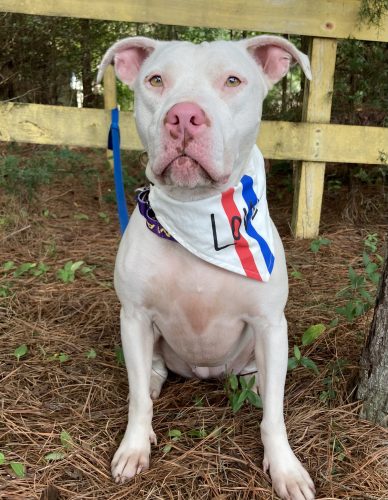 Vibe is an amazing one-year-old female Pitbull.
Vibe is so attentive to those who are kind to her, you may not notice she is at least partially hearing impaired.
This sweet girl is eager to please and she wants desperately to be someone's companion. Vibe is house/crate trained, walks well on a leash, though she gets along with gentle dogs, cats seem to frighten her.
A mature home without young, active children would be best for Vibe. She is spayed, microchipped, heartworm negative, appropriately vaccinated, and treated for parasites.
Applications to adopt our deserving Vibe can be found at harthumane.org.
The Hart County Humane Society is a volunteer rescue organization. We receive no funding from any government agencies or other groups. We are a 501C3 non-profit organization.
Donations are desperately needed to fund our foster/rescue and spay/neuter programs. Donations can be mailed to P.O. BOX 1062 Hartwell Georgia 30643 or be made online through pay pal at harthumane.org. Please help us help the animals in our community.