Teen Recovering After Weekend Boating Accident on Lake Hartwell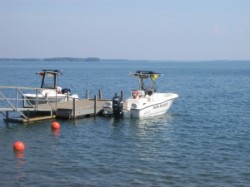 A teenage boy is expected to make a full recovery after a boating accident on Lake Hartwell over the weekend.
It happened Saturday afternoon near the Milltown campground in Hart County. 
"It appears that he was on the front of a pontoon and fell off the boat," said Georgia Department of Natural Resources Law Enforcement officer Craig Fulgum. "The propeller struck him, which created the majority of his injuries."
Fulgum said when he arrived, EMS was already on the scene and took the boy to Greenville Memorial  Hospital.
"Prop strikes, depending on the situation, are always going to be very serious and when you have a prop strike where the boat runs over you…well, he's very lucky to be alive," Fulgum said. 
As of Monday afternoon, the teen was listed in serious but stable condition and is expected to undergo surgery for non-life threatening injuries.
According to Fulgum, the teen by Georgia law, was over the age that required him to wear a life jacket, which he said was probably a good thing.
"I don't believe a life jacket would have helped, it might have actually been worse," Fulgum said. "Where the injuries were, if he had been upright in the water, it would have been a direct hit. So not having a life jacket on may not have saved him."
The name of the teen is not being released because he is a minor.
Fulgum said the investigation is ongoing and it is not clear yet whether any charges will be filed against the operator of that pontoon boat.