Lavonia to Hold Christmas Tree Lighting, Christmas Fest Tonight at Gazebo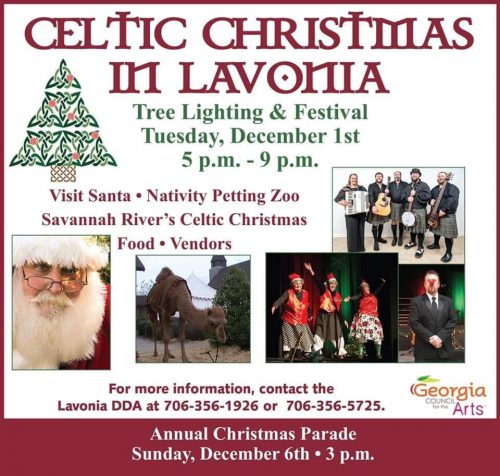 The City of Lavonia is holding their annual Christmas tree lighting and Christmas fest this evening pretty much as they do every year, despite the pandemic.
Organized by the Lavonia Downtown Development Authority, Director Vivian Young says not much has changed this year.
But the tree lighting and Christmas fest will take place a little earlier this year.
"Lavonia is planning to have Christmas events as normal. We are having our Tree Lighting and Christmas Fest on Tuesday evening, December 1," she said.
In addition to local vendors on hand to help you find Christmas Gifts, Young said there will also be a special live performance at the Gazebo.
"Savannah River Productions will be doing their annual Celtic Christmas at the Gazebo the night of the tree lighting. This is a free event. There will be food that night and craft vendors. Additionally, the Franklin County Jazz Band will also be performing," Young said.
Young also noted Santa will not be available at the Christmas Fest for little ones to sit on his lap and give him their wish list.
However, children will be able to drop off their letters to Santa and he will be picking them up.
"This year, we have Letters to Santa. There are three red mailboxes; one at the Train Depot, one at the Gazebo, and one at City Hall. If your little one writes a letter to Santa, be sure to put your return address on the envelope because Santa will respond," She said.
Again, the tree lighting and Christmas Fest takes place Tuesday evening, December 1 downtown at the Gazebo.
The annual Christmas Parade will be held on Sunday, December 6th at 3:00 p.m. If you would like to enter a float, there is no charge, but you must sign a form.
Call 706-356-1926 or 706-356-5725 for more info.