Budget, Tax Cuts First Order of General Assembly Business, Says Rep. Powell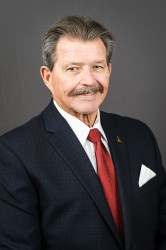 As the Georgia General Assembly convenes for the 2020 session, one of the first items on the agenda is another proposed budget cut.
Speaking on Community Forum Sunday, State Representative Alan Powell said in addition to the 4% cut across all State departments and agencies last fall, lawmakers will be considering another 2% cut for the new budget.
However, he said Georgia is still in good financial shape.
"We continue to be a triple-A bonded state. We've got the largest short-fall reserve account we've ever had for the hard times like we had ten years ago. Georgia is in good shape, but that's what it's about. It's about cutting in and weeding out," Powell explained
Powell said lawmakers will also be looking at some of the past tax cuts and whether they should be repealed.
In 2018, the General Assembly cut the state's top income tax rate from 6% to 5.75% with the option to cut it again in 2020 to 5.5%, which Powell said lawmakers will be looking at this session.
But Powell said there were other tax cuts that the House may consider adjusting.
"Then we'll have to look at some of these cuts. Some of the things like cutting the income tax rate is something that we'll be looking at seriously. Other things like the sales tax on automobiles. On January 1, the sales tax on automobiles dropped from 7 to 6.76% because there's so much coming in and that changed the criteria on used auto sales from book value to actual sales price. You know, we're losing funds," he said.
Another area of tax cuts is in Georgia's film industry where Powell says some movie studios and production houses aren't living up to their end of the tax cut bargain.
"Over the years we saw that Georgia was a great home for the motion picture industry and entertainment. That's jobs, but we were given tax credits for the motion picture industry to come to Georgia and do business. And Georgia has become a major location for the movie industry. However, we starting to see and getting reports and audits that maybe a lot of these things are being abused and we're not getting enough bang for our buck. So that will probably be adjusted this year," Powell explained.
Powell indicated the House may consider again an attempt to re-instate Delta Airlines' fuel tax as an additional source of revenue to make up for the budget cuts in other areas.
In November, the Department of Revenue ruled the $35-million dollar jet-fuel tax break is permanent, not temporary as Lawmakers thought.