ABBA – Beautiful Bull Terrier Mix Available at NE GA Animal Shelter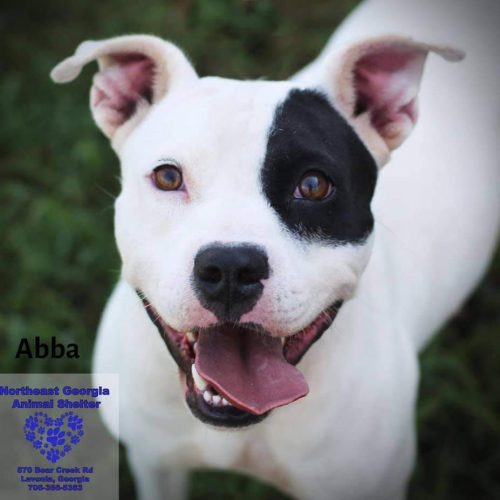 Abba is a 2-year old female Pitbull mix on the smaller side.
In early August, she showed up at a homeowner's yard in Franklin County, skinny, and in need of help.  The people could not keep her and turned her into the Northeast Georgia Animal Shelter.
No one claimed her during her five-day stray hold and now she is up for adoption.
Shelter manager Tammie Jourdenais says since Abba has been at the shelter, she has put on weight and is now healthy and ready for her new forever home.
Abba is very good with children and other dogs but is afraid of cats.  At approximately 2yrs old, she still has a lot of puppy in her and loves to play.  She would be good with someone experienced with puppies and dogs as she still needs some basic puppy training.
Her adoption fee is $55 and that covers her spay and shots.
If you are interested in this beautiful, sweet girl, stop by the Northeast Georgia Animal Shelter on Bear Creek Road in Lavonia.  They are open to the public Tuesdays through Saturdays from 11a to 4p.