Zippo: Flame-point Siamese Bobtail Kitten Available at Hart County Humane Society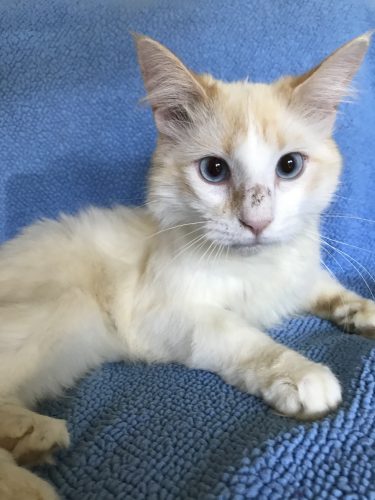 Zippo is a long hair, flame point, bobtail, Siamese kitten.
A rescued stray, the kitten was found infested with both fleas and ear mites while suffering from an injury to his mouth. Zippo is extremely affectionate; he longs for companionship and loves attention. Our sweet rescue is now healthy and available to an inside always home where he will never be declawed.
The 11-month-old male is neutered, microchipped, feline leukemia/ FIV negative, appropriately vaccinated, and treated for parasites.  Applications to adopt Zippo can be found at harthumane.org.
For more information please email [email protected]
The Hart County Humane Society is a volunteer rescue organization. We receive no funding from any government agencies or other groups. We are a 501C3 non-profit organization.
Donations are desperately needed to fund our foster/rescue and spay/neuter programs. Donations can be mailed to P.O. BOX 1062 Hartwell Georgia 30643 or be made online through pay pal at harthumane.org. Please help us help the animals in our community.