FAITH: Orphaned Kitten at Hart County Humane Society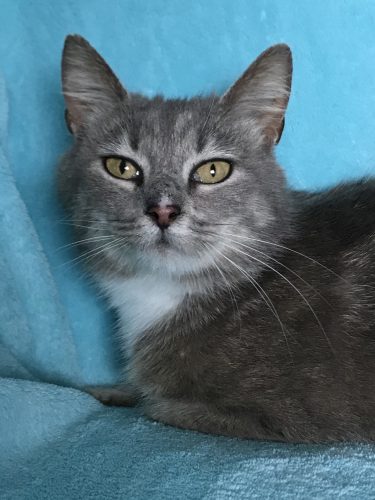 Faith is a very sweet and healthy 12-month-old kitty. She is spayed, microchipped, feline leukemia/FIV negative, appropriately vaccinated, and treated for parasites. Faith came to us very sick, malnourished, and dehydrated.
We were grateful the tiny kitty survived but devastated when her newborn babies were found in the woods 4 days later. Faith was too sick to care for the critically sick kittens so they went to an experienced foster family with prayers for their survival.
Sadly, two of the four kittens didn't make it but we are grateful for the lives we can save. Faith is timid until she feels safe but will be a wonderful companion once she knows she is loved. If you can love this deserving kitty please fill out an application at harthumane.org.
The Hart County Humane Society is a volunteer rescue organization. We receive no funding from any government agencies or other groups. We are a 501C3 non-profit organization.
Donations are desperately needed to fund our foster/rescue and spay/neuter programs. Donations can be mailed to P.O. BOX 1062 Hartwell Georgia 30643 or be made online through pay pal at harthumane.org. Please help us help the animals in our community.