Area Employers Attend Department of Labor Summit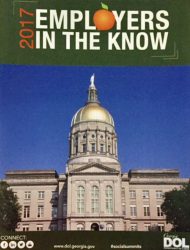 Employers from Stephens and surrounding counties now have a better understanding of some of the new programs and initiatives at the Georgia Department of Labor.
State Labor Commissioner Mark Butler was in Toccoa Wednesday for the 2017 Employers in the Know conference which took place on the Currahee Campus of North Georgia Technical College.
Yesterday's event is one of a number of such seminars held across the state every month.
Butler says the day-long seminar gives employers the opportunity to ask questions and learn about the latest updates and changes to state and U.S. labor laws.
"We do these around the state and we bring in different guest speakers, such as the Secretary of State's office, the Department of Revenue and this year we have someone from the U.S. Department of Labor. And then also we have people from our department to talk about things that are of interest to our employers," Butler explained.
This year, Butler said they fashioned the seminars to be more of a town hall event, allowing attendees to ask questions related to their businesses.
He says that allows his office to get input from Georgia companies about how to improve services.
"We also get information back from our employers about things that they would like to see in our department," Butler said. "We hear from them about things they would like for us to do differently or do better so it's a great resource for us."
Areas of concern for employers, Butler said, included the need for more online services from the Georgia Department of Labor.
He said they are already developing ways to streamline services for Georgia employers.
However, one of the biggest issues local employers are struggling with, according to Butler, is finding people with a good work ethic.
"The big thing we're hearing from employers this year is they need more employees with soft-skills, such as timeliness; showing up to work on time and knowing when to come in off break," Butler said. "So, we've developed some programs for high school students to teach them. Georgia Best is one that helps teach kids the importance of these soft skills, and we hope these will trickle down into some other areas."
Other topics covered Wednesday included assistance with tax credits and employment-related laws, as well as recruitment and staffing.
Wednesday's seminar included employers from the 13-county Georgia Mountains Region.